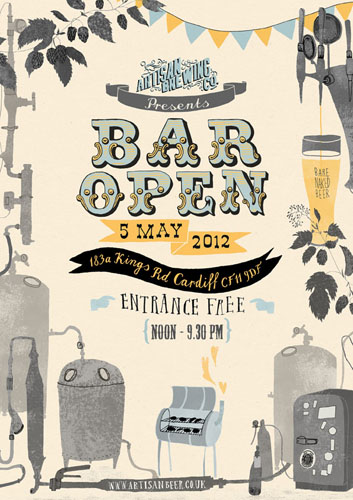 Fresh from the press: the poster I designed for Cardiff based microbrewery Artisan Brewing to promote their monthly BAR OPEN event!
Somewhere hidden away in the leafy neighborhood of Pontcanna is a garage is filled with an impressive array of kettles, pumps, pipes and hoses. This is where Simon brews his fine beers according to traditional recipes from all over the world. He doesn't use any additives and the beers are vegan friendly (you might not know this, but some beers are filtered using fish swim bladder). To quote Simon it's "beer like nature intended".

Every first Saturday of the month the brewery invites people to come together in their courtyard and drink the Bare Naked Beers. You should come, it's always good fun.  The next BAR OPEN is on Saturday May 5th. There will be a barbecue and on tap are Helles Lager, Bavarian Wheat, Chocolate Wheat and their latest American IPA (which I sampled straight from the keg on on my last visit and I can tell you it's excellent!).
Find the Facebook event here.