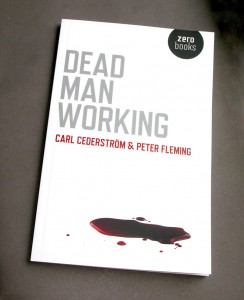 It's not in my usual line of work, but still worth a mention: the cover photography I did for the book Dead Man Working by Carl Cederström and Peter Fleming. I had to make fake blood and then create puddles and splatter it around, which was heaps of fun! It has been published by Zero Books, a 'radical' publisher, whose catalogue will be much of interest to those of you who are into philosophy, political theory and cultural studies.
"What does the worker tell us today? "I feel drained, empty… dead." This book follows the dead man working from the daily tedium of the office, to the humiliating mandatory team building exercise, to awkward encounters with the funky boss who pretends to hate capitalism and tells you to be authentic. When the corporation has colonized life itself, even our dreams, the question of escape becomes ever more pressing, ever more desperate…"
Despite the fact I don't have to go on humiliating team building exercises, I am my own funky boss and I love my new-found daily tedium of the office, this does sound like an interesting read!

Order it from
Amazon
here
.