Wow, the first Pub Carpet Crawl has really been a big success!! Despite the dreadful weather over 20 people turned up to brave the pubs on the notorious Canton Mile in Cardiff. It has been a pleasure for the eyes in many ways, as you will see for yourself in the pictures below. It was also successful in the sense that nobody got the 'up-close carpet experience', we only lost one man along the way and nobody got into a fight. We've even been pleasantly surprised by some of the pubs, which we previously never dared to enter!
Meeting point was The Westgate and we were off to a good start with a classic carpet. ∨
∧ After our first pint we duly switched to half pints. I'm afraid I haven't been able to enforce this rule the entire night…
Next up was The Kings Castle. I thought this pub didn't have a carpet, but after a quick look around we discovered an absolutely horrid example in one of the back corners!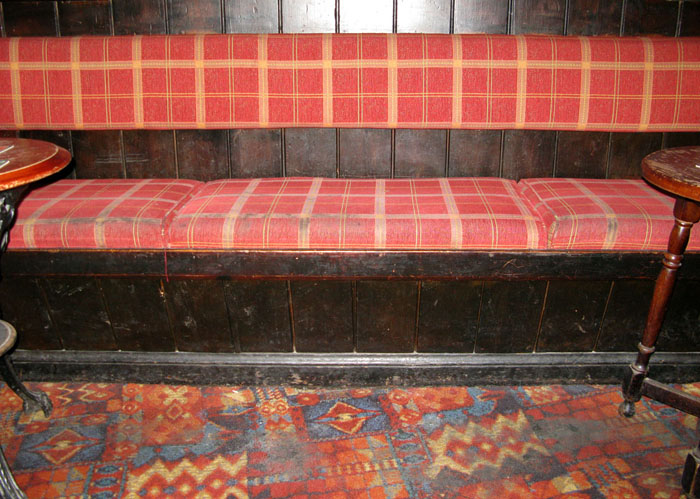 ∧ A fair attempt to color coordinate the upholstery!
The Foresters looks shabby on the outside, and I feared what it would be like inside. A friend who joined us there told me he had entered it on Google maps and the first review that came up read: "Some yob tried to hit me with a bottle by smashing it through the window behind me while I was standing outside having a fag". The review continues with "This place is a hangout for losers! The sort of place where people go after they have given up on life and just need somewhere to go and cause trouble and find something to do – RAGING ALCOHOLIC 6 Jul 2009".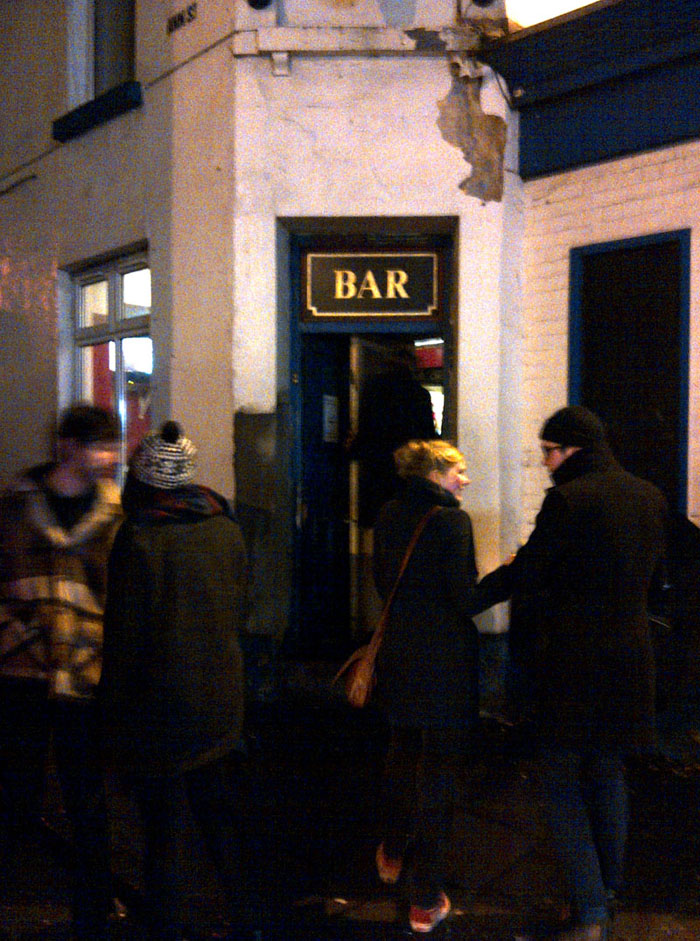 ∧ Entering the shabby BAR.
However we don't agree with Raging Alcoholic, we've all enjoyed it and many said it was their favorite pub of the crawl! The carpet looked alright in the dimly lit dancing area, but the photograph shows the harsh truth: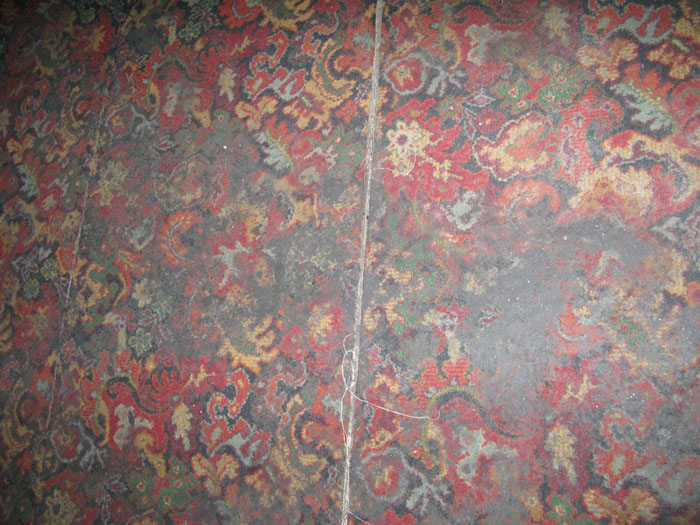 There was a disco happening and the DJ played some good music, I can recall songs by The Specials and The Undertones. But then a woman started singing karaoke and it was time for us to move onto the next one ∨.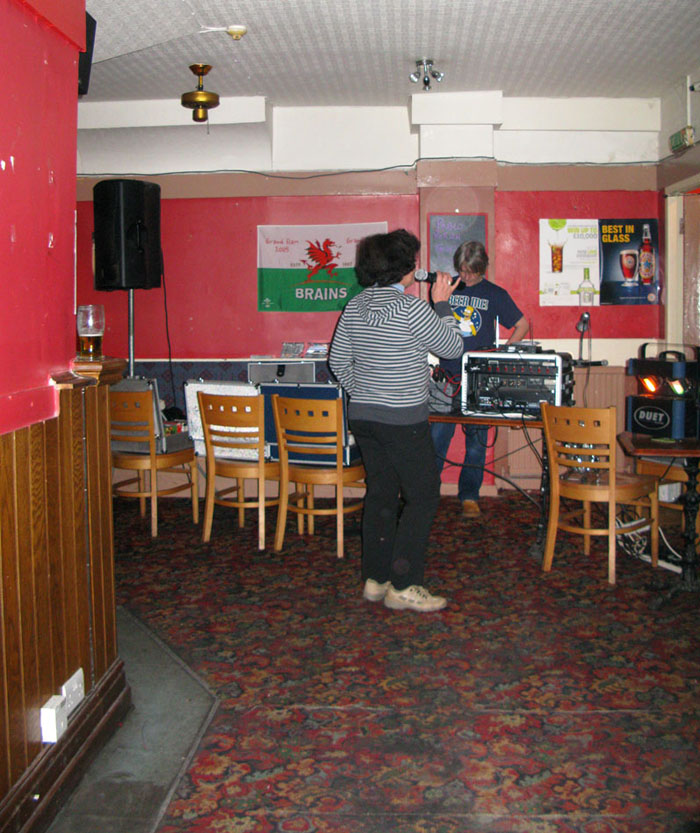 At The Admiral Napier the disco was in full swing! I had troubles getting a good picture of the carpet because there were so many people standing on it! ∨
After this The Ivor Davies was a bit of a downer. For others it proved to be a silent haven, literally as there was no music. It's a massive pub and it was virtually empty, except for some grey doves. At least it was cheap (£2.10 for a pint of Brains!). I had photographed their carpet before, but this areal view provided me with a whole new perspective on the pattern! It's much more elaborate than it appears at close range. ∨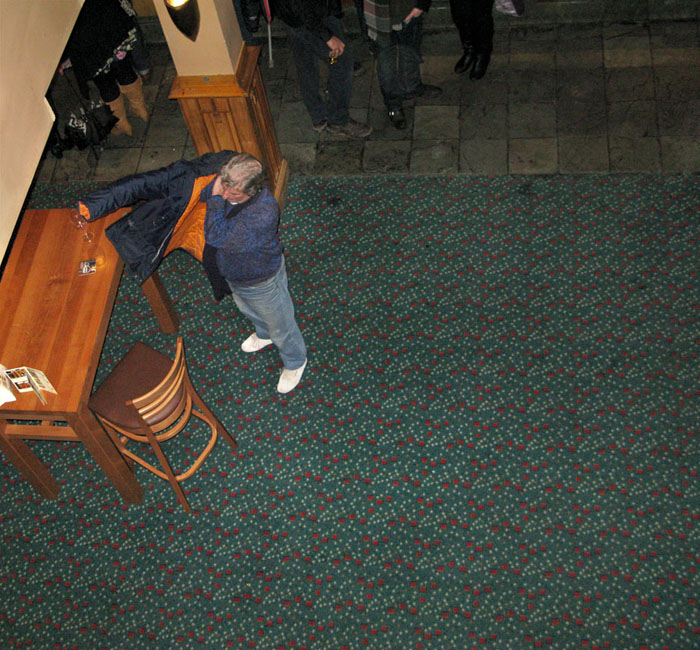 ∧ Grey dove calling it a night.
By this time I urgently needed a wee, and I was glad I did because upstairs there was a very interesting carpet! It's almost like op art!! ∨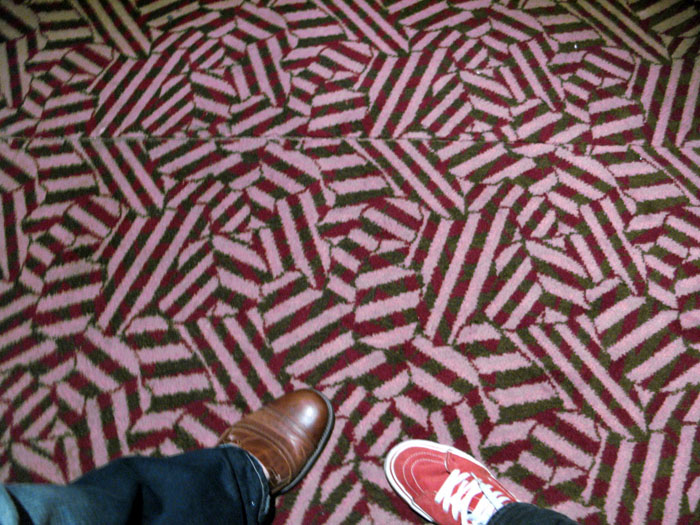 At first The Canton didn't appear to have a carpet, but much to our relief there was one in the backroom… ∨
∧ Patternfest!!
…along with a pool table! We played a game (boys vs girls), and I'm proud to say the boys almost wrecked the table and we girls only lost by an inch.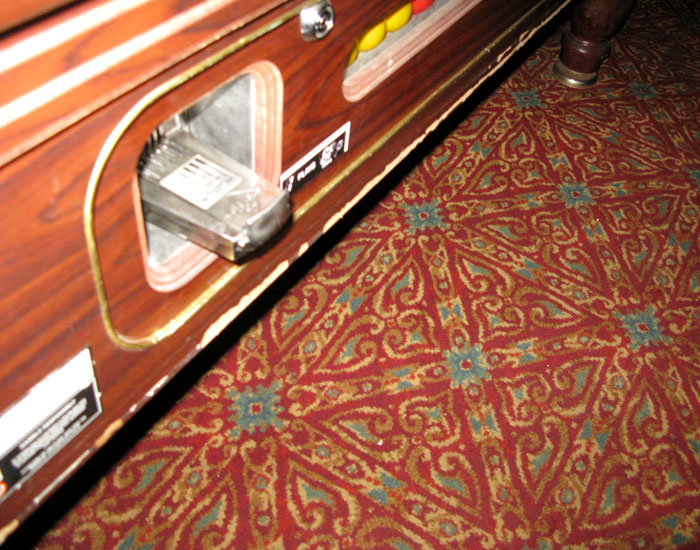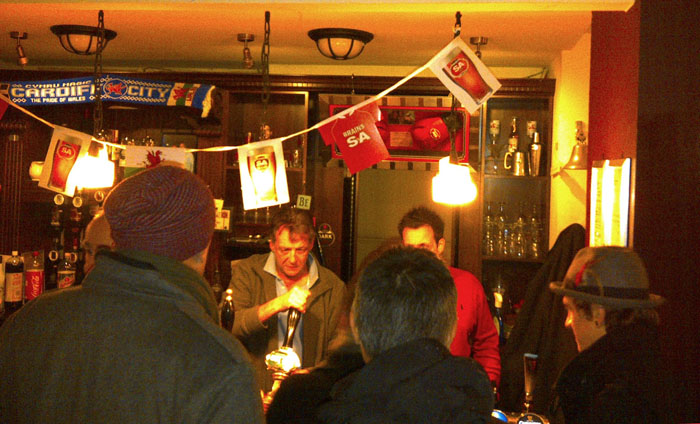 ∧  All hands on deck for the staff at The Canton, the clientele has just quintupled!
By the time we got to The Goscombe I was enjoying myself so much I kind of forgot the purpose of this pub crawl. I did take a photo of these two ladies dancing but I failed to take a picture of the carpet!!!!!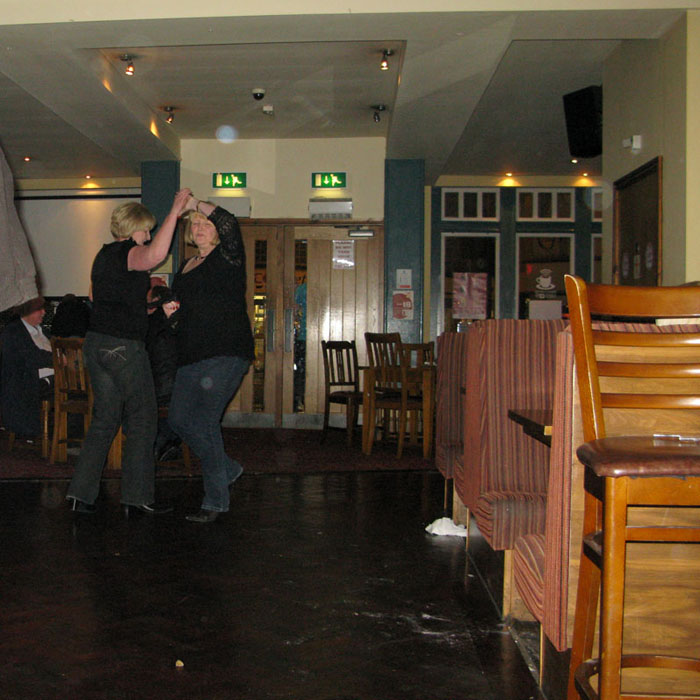 I also totally missed The Corporation's carpet!! Luckily it is somewhat visible in a shot one of my friends took… ∨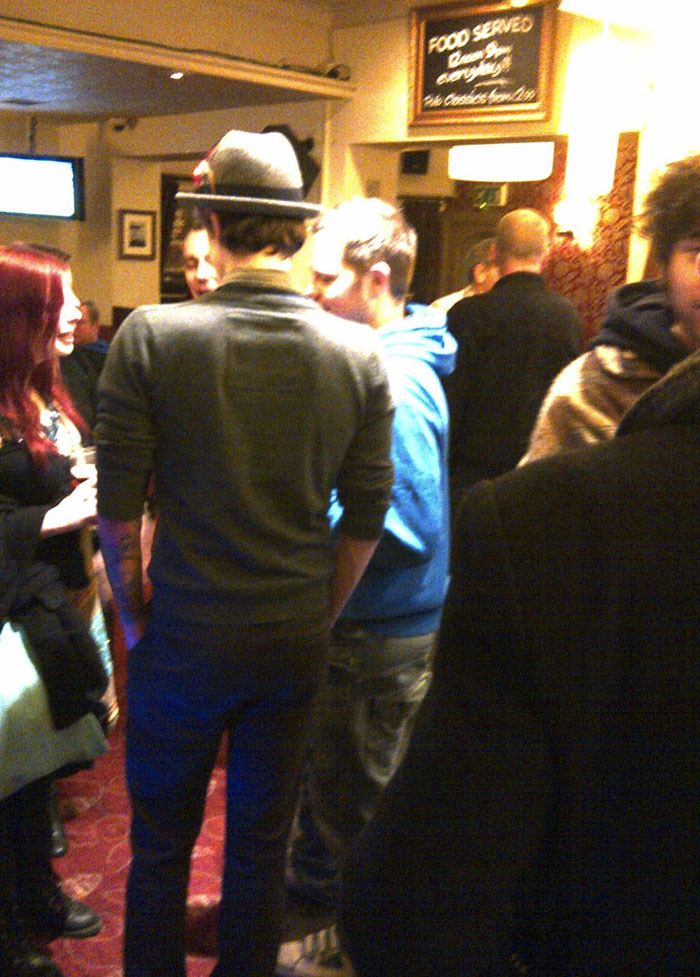 We had hoped to make it to a ninth pub, but by 1.00 all the pubs on Cowbridge Road East had closed. We all dispersed into the night, and some of us went for a late night snack at Indo Cymru. This curry place was another pleasant surprise that the night. It was absolutely rammed, so the eight of us had to squeeze into one of the booths (I love booths). The food was good too.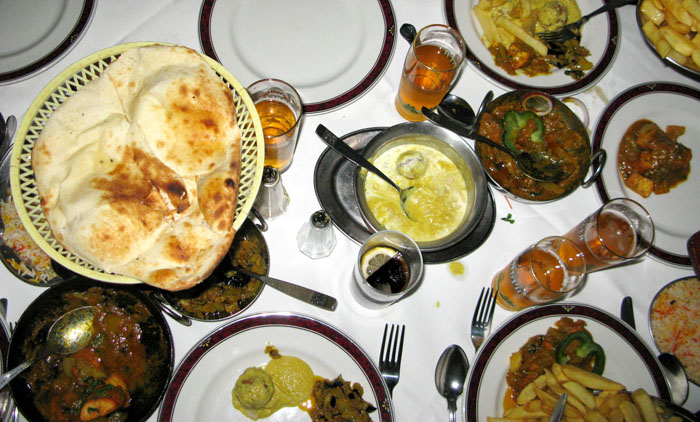 ∧ Or could it have been a case of 'Hunger makes raw beans taste sweet'?
And best of all: they had carpet!! What a night! Stay tuned for Pub Carpet Crawl #2 in April.