I wasn't sure if the second edition of the Pub Carpet Crawl could top the magical first crawl, but much to my relief this edition has really lived up to the high expectations! To be honest, it was somewhat disappointing on the carpet side, but this has been fully compensated by other unexpected finds and happenings. Now that – after three days – the mist has cleared I can tell you our story…
For crawl number two we set out for the area of Roath, a lively neighborhood where lots of students live. This means plenty of drinking establishments, among which, fortunately, still some traditional pubs. Meeting point was the Ernest Willows, a large Weatherspoons pub. It has an interesting carpet, with a bold, large scale pattern. I think they had some sort of ale festival on and they had decorated the place with some hay to create a rustic ambiance??

The whole look and feel of the pub clashes immensely with the toilets, which I think are the grandest loos in Cardiff. It's like walking into a roman bath or a palace. There's even a seating area in the front (with menu's on the tables for anyone who would like to have their food in the toilets?) and a fountain in the back.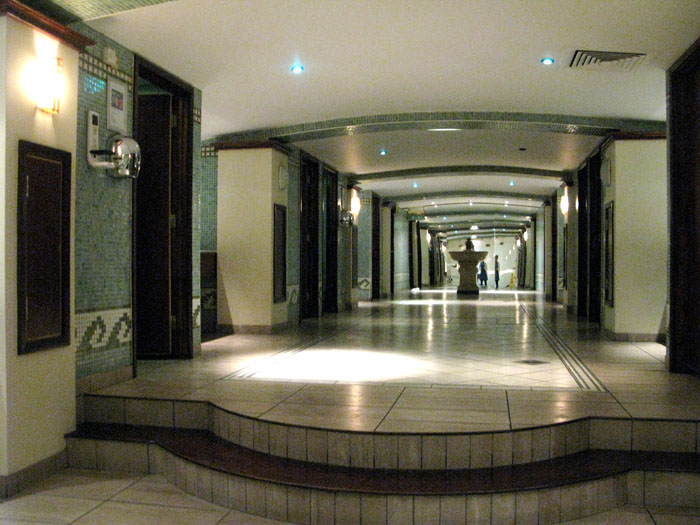 With empty bladders we crossed the road to The Municipal Club. We had no idea what to expect when we went in. According to the sign outside it was going to be like the Black Chicken in Benidorm…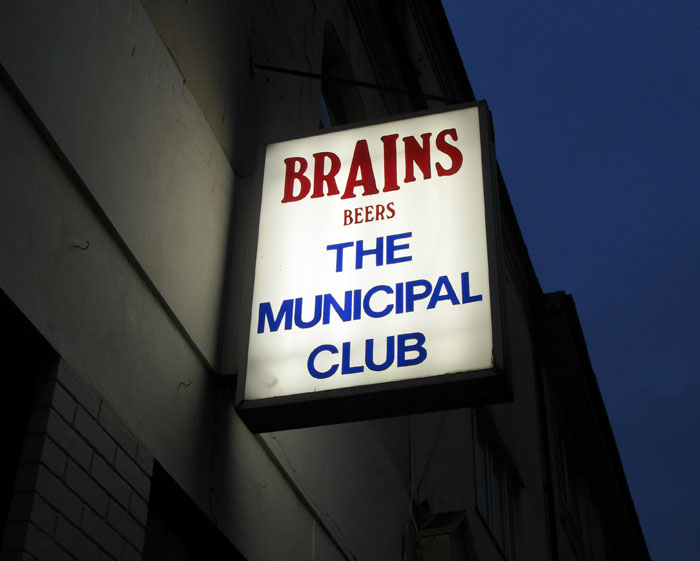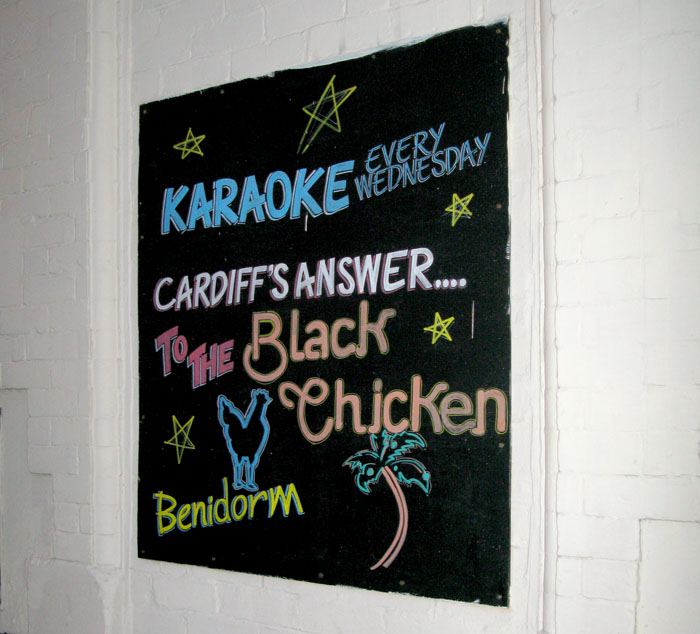 I've never been to the Black Chicken in Benidorm, but I Googled it and indeed it's not too far off (look here)! But with carpet. And lots of red velvet.
To everyone's extreme excitement there was a CARPETED PILLAR!!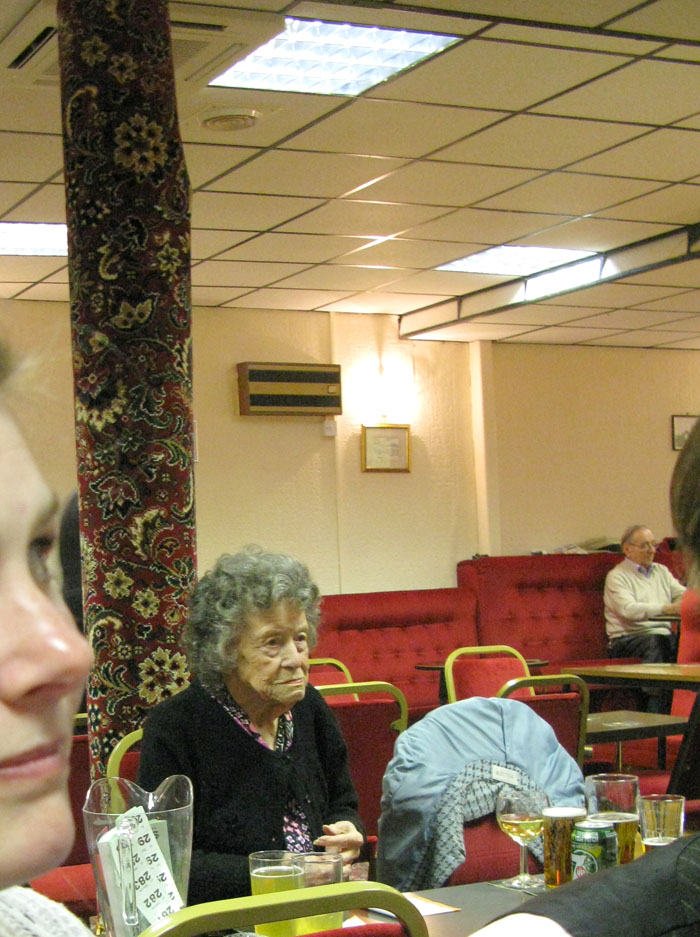 ∧ Please note all that booze in front of that old lady!
I think the interior hasn't changed since its clientele was our age… At first the locals were a bit suspicious (one of my friends overheard them referring to us as "those muppets"), but in the end they didn't want us to leave and some of the musicians among us got offered a gig and free rehearsal space there. Bless 'em! They were just about to start to playing bingo when we came in, so of course we played a round. It was so much fun!!
 ∧ The bingo caller: "Four and Seven, 47" "Two little ducks, 22″,"Same both ways, 69".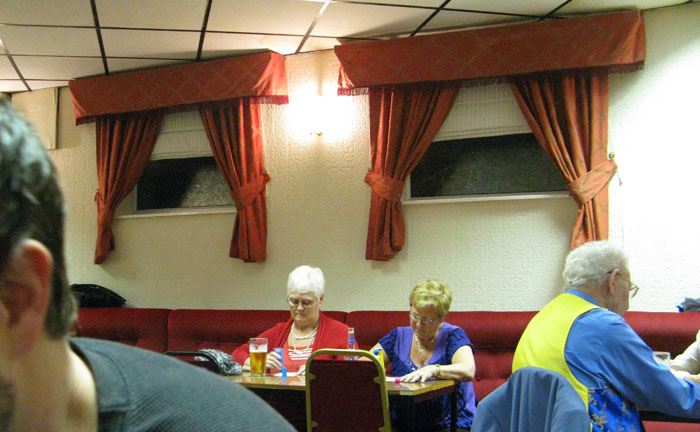 ∧ Our competition, fully focused. I think the man put on his lucky waist coat for the bingo!
I wish we could have stayed for their entertainment that evening – "a great vocalist", but the other 15 pubs in the Roath area were callling. So on we went to the Poets Corner. Being in this pub felt like somewhere between being in a dollhouse and Alice in Wonderland, with lots of stairs and turns and nooks and corners. There was only one tiny area with carpet, plus a bit of carpet on the stairs. But hey, carpet is carpet. We followed the stairs all the way to the top, which led us to two pool tables.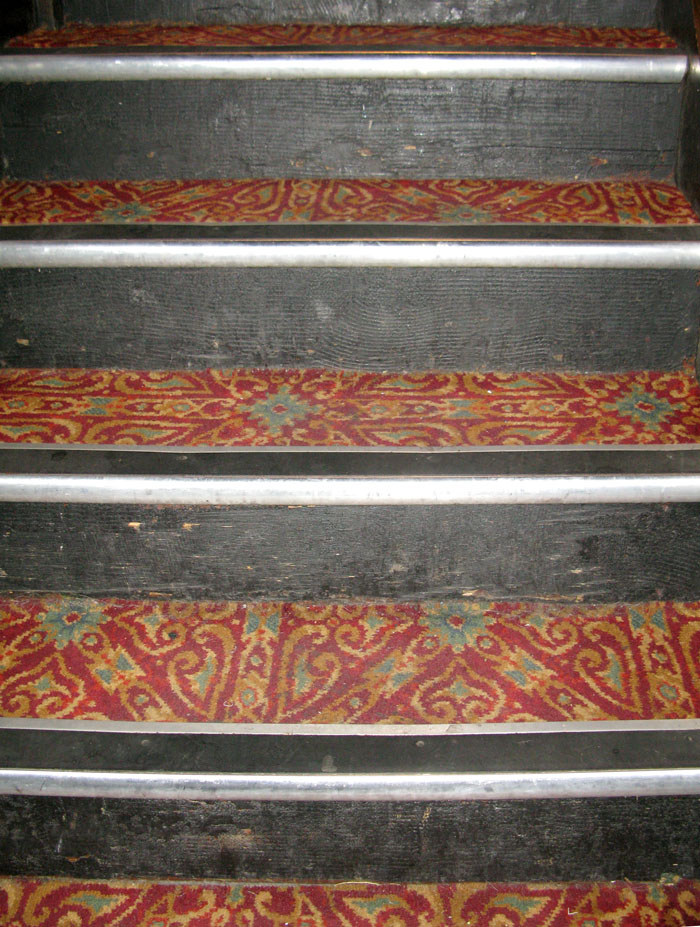 Because some people wanted to finish their game of pool we got a bit dispersed on our way to the Roath Cottage (at this point there were 25 of us). A couple of us went ahead, but when I arrived at the scene we couldn't open the door… Turned out the landlady had locked the pub!! She told my mates, who had made it inside, the pub was "full" (which it clearly wasn't). Maybe it was for the best. The pub was filled with barely legal chavs and the staff was extremely rude. I wonder if the carpet was any good.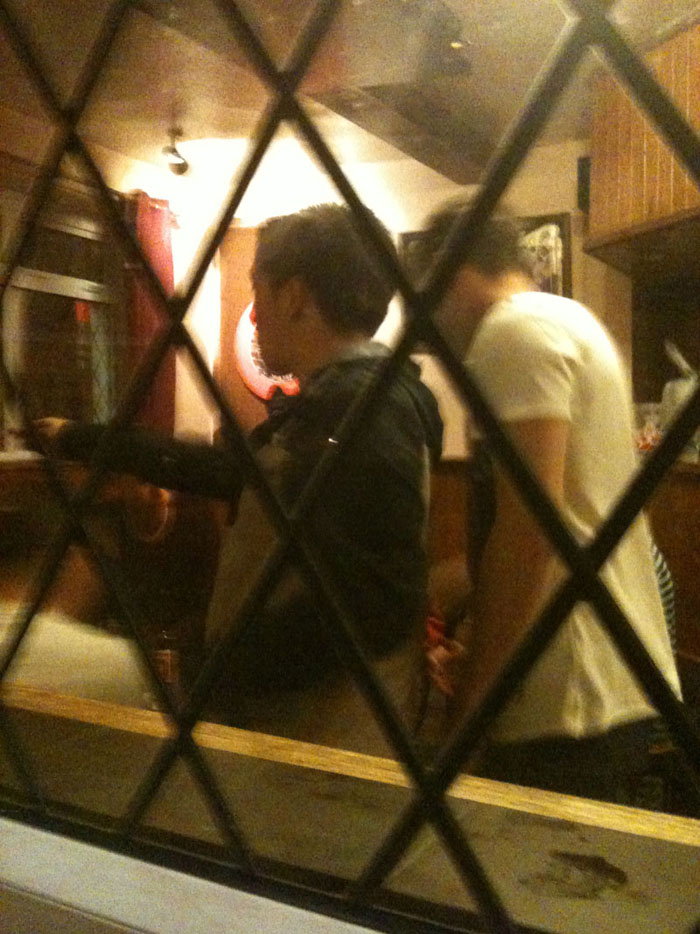 ∧ Things getting rowdy inside the cottage.
Things could only get better at The Crofts, and indeed. It had a few nice surprises in store for us.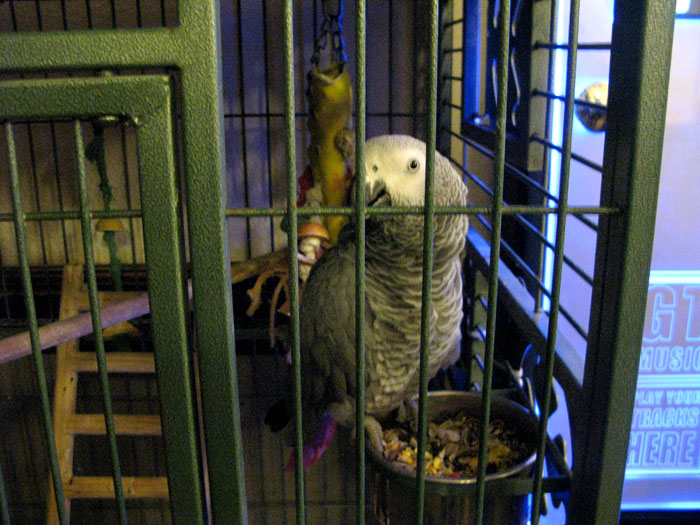 ∧ Like a parrot (gotta love pub pets)!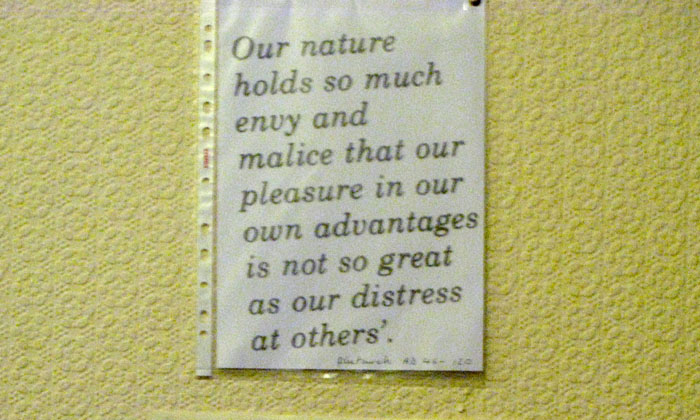 ∧ And some profound quotes in punched pockets.
∧ Political correctness prohibited. Twat.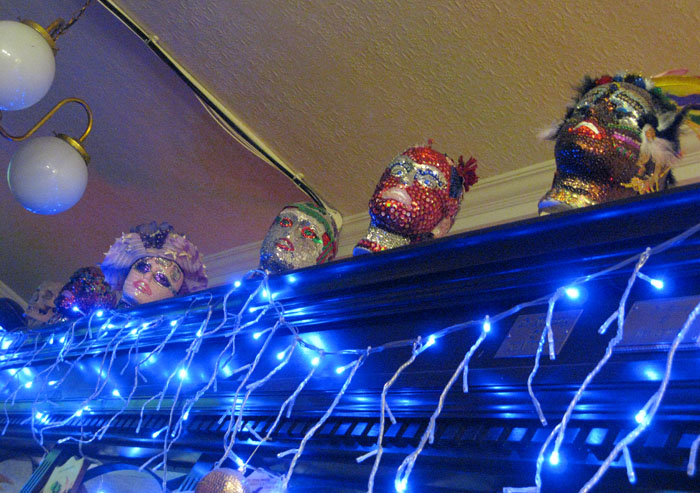 ∧ Interesting decorations on top of the bar.
And hurray, at last a decent carpet again, also in the ladies room.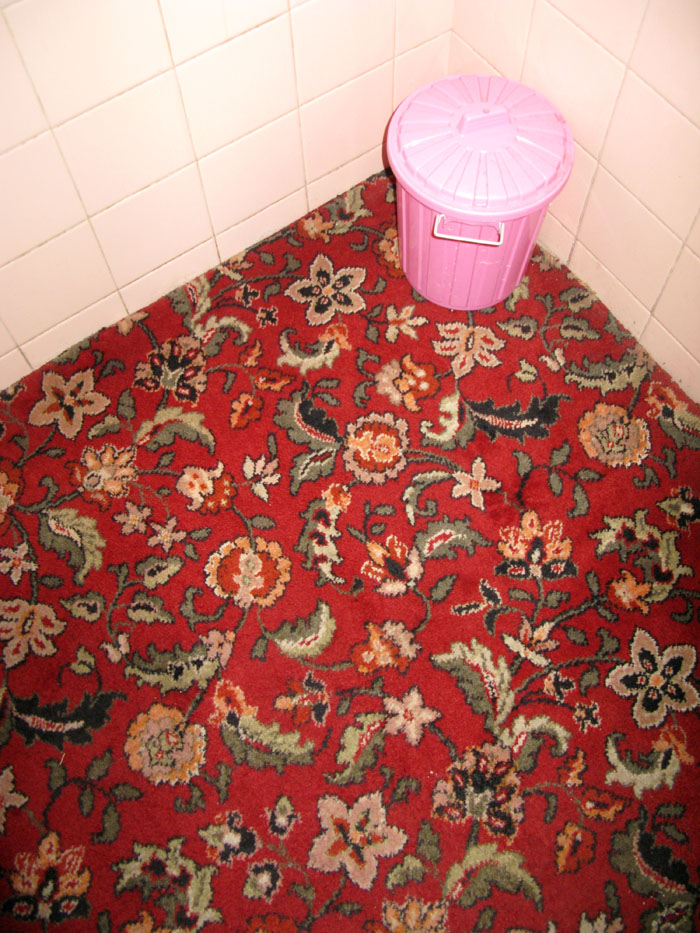 Unlike the next dive, the 147 Club. We broke the no-carpet-no-drinks-rule and more pool was played and more half pints consumed. I must admit that at this point things started to become a bit hazy. I can't remember this carpet at all. I think it must have been at the Roath Park's.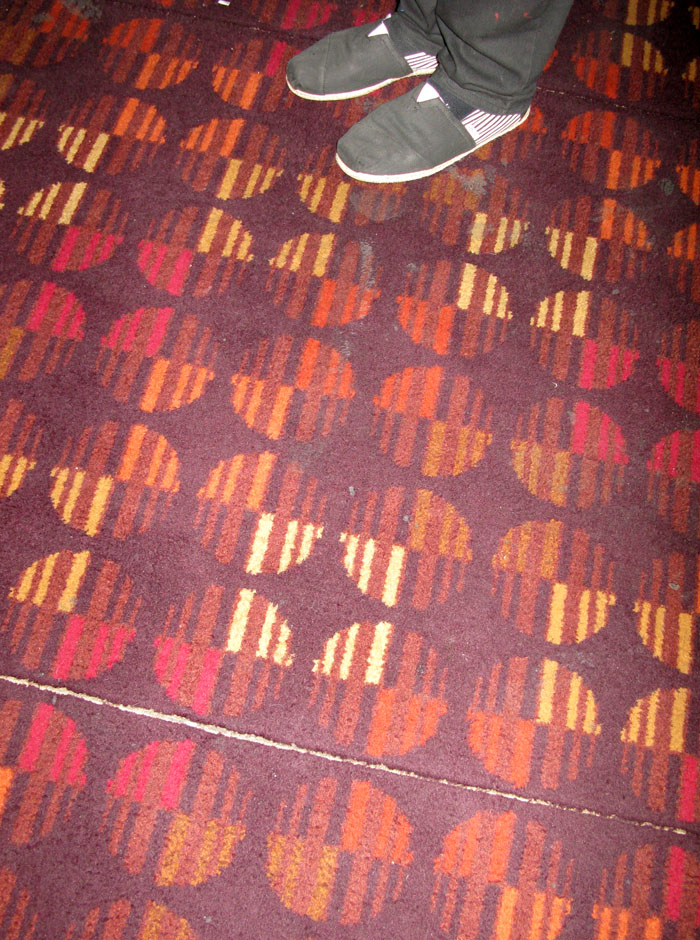 Eleven o'clock was approaching quickly and we hastened ourselves towards The George and Varsity. I had good hopes these more studenty pubs would stay open till midnight, but alas, they had stopped serving by the time we got there. The only place nearby that was still open was Gassy Jacks. Apparently it has the highest ceiling of any pub in Cardiff, which doesn't necessarily makes it a very cosy place. Of course not having a carpet does not help the atmosphere either. And uh oh, one of us had the "up-close-carpet-experience"! I'm not going to spill the beans on who tossed his cookies, but I can tell you it wasn't me. Fortunately it was on the laminate floor in the hall; not having carpet does have it advantages.. So well yes, the Pub Carpet Crawl #2 ended in style.
Next crawl is most likely to take place on Saturday June 9, June 16 so keep your diary free that night (and the day after..).